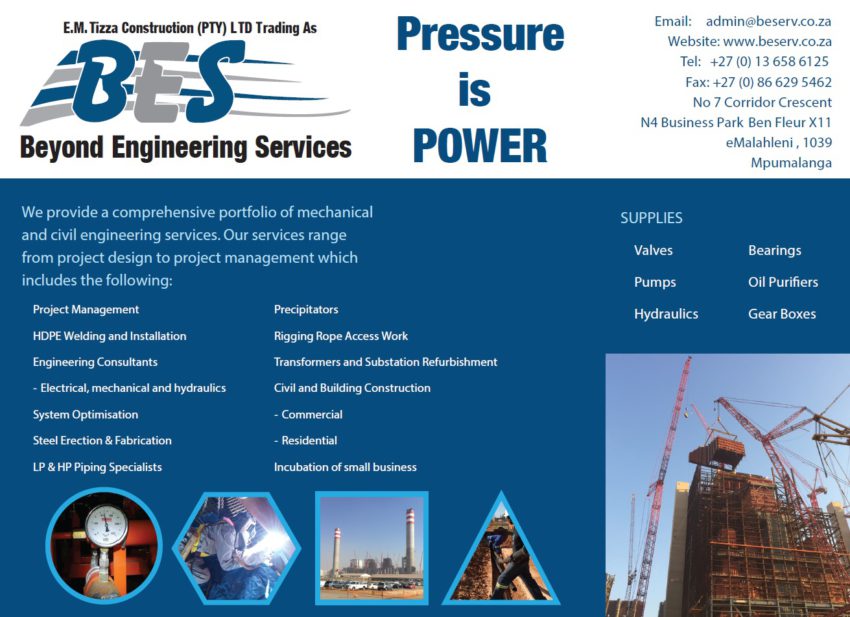 Beyond Engineering Services
COMPANY BACKGROUND
Beyond Engineering Services was founded in 2013 and is located in Mpumalanga Province in the Nkangala region (Emalahleni Municipality). The company is led by Alex Masango who has a vast experience in the Manufacturing, Petro-chemical, Power Generation as well as the Construction industry.
Beyond Engineering Services is a dynamic and experienced electrical, electronic and mechanical engineering consultancy with the capacity to provide comprehensive and value-driven design and project management services.
We provide specialist solutions to clients in the property, banking, commercial and industrial markets.
Our dedicated and professional team of specialists have built a reputation of providing viable, durable and cost-effective solutions to meet challenging project requirements throughout Africa.
OUR MISSION
To be the preferred provider of value driven engineering solutions to clients across diverse industries. We will achieve this by creating effective partnerships, employing state of the art systems and technology,
and utilize our extensive experience and industry knowledge to deliver complete engineering solutions.
VISION
To be the company that supplies and gives consistent quality services at all times. To develop skills that will contribute to the economy and reduce the unemployment rate in South africa.