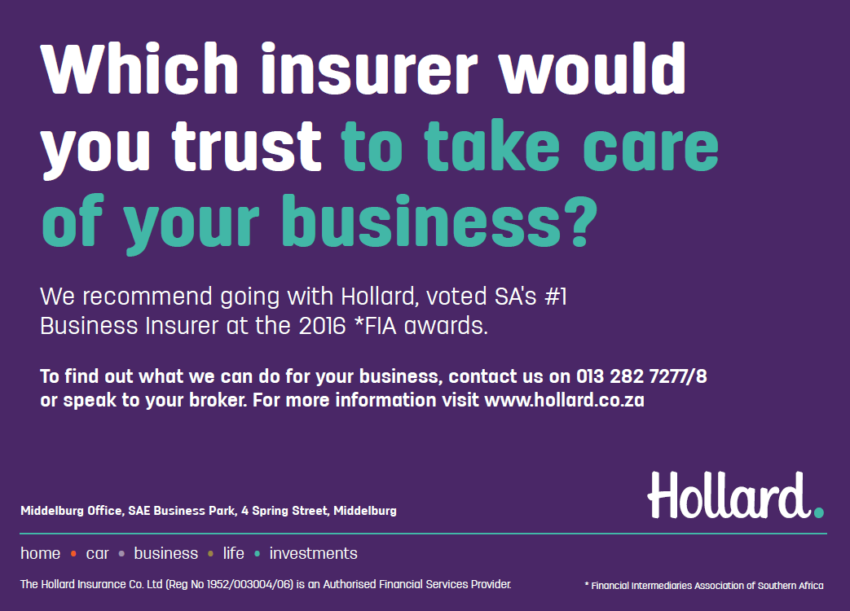 Hollard in a nutshell
We're South Africa's largest privately-owned insurance group with turnover exceeding R15 billion
We're truly independent, having no bank or any institutional shareholders
We hold both short-term and life insurance licenses, but share infrastructure and capabilities in order to offer seamless and integrated insurance solutions
We have an impressive track record in innovation for insurance distribution and product development
We underwrite most classes of insurance business in South Africa, either directly or through our partners
We currently deliver insurance solutions to more than 6 million policyholders
We're a team of almost 3,000 passionate 'Hollardites' in South Africa, with operations all over the world – including Australia, China, India, Botswana, Namibia, Zambia and Mozambique
Specialist Insurance
At Hollard, we provide an incredibly broad range of specialist insurance products. This comes from our commitment to providing you with the exact cover you need.
Besides traditional personal insurance covers such as life, funeral, car, household and homeowner's insurance, we also offer a number of more niche personal insurance solutions. In addition, we provide dynamic and innovative business insurance solutions.
So, whether you're planning for your future or that of your family, or thinking about your unique needs in areas such as travel, arts, antiques and collectables or even pet medical expenses, we have experts who'll try and find an affordable solution, tailored to your needs.
Car & Home
Your wheels are your freedom; your home is your castle. Our car insurance and home insurance will protect them both – so your life equals enjoyment, not worry.
Funeral & Life
Life is about those you love. Protect them and your legacy by making plans for when you're gone. We'll do funeral insurance while you do life.
Business insurance
Business is full of ups and downs. With our business insurance, we'll help cushion the bumps in the road so your company can flourish.
Investments
Grow the money you've got now, so you can smell the roses later. Our range of investments use market opportunities to build your dream financial future.
Business Solutions from Hollard
For all your Corporate, Commercial and Specialist Business Insurance needs Whether you're an industrial manufacturing company or a tech consulting firm, our team of carefully selected brokers and partners will work hard to put together a tailored solution specifically for your business. We understand that no business is the same. That's why we also appreciate the long-term value of giving our brokers specialist backup support and the very best in risk assessment and management.
In 2013, Hollard was voted The Best Commercial Insurer and Etana The Best Corporate Insurer. Because two is almost always better than one, the two companies joined forces to form one big Hollard. Today, Hollard and Etana's combined skills make up a formidable team that brings you an even better offering than before.
Corporate Markets

Commercial Insurance

Specialist Insurance

Employee Benefits