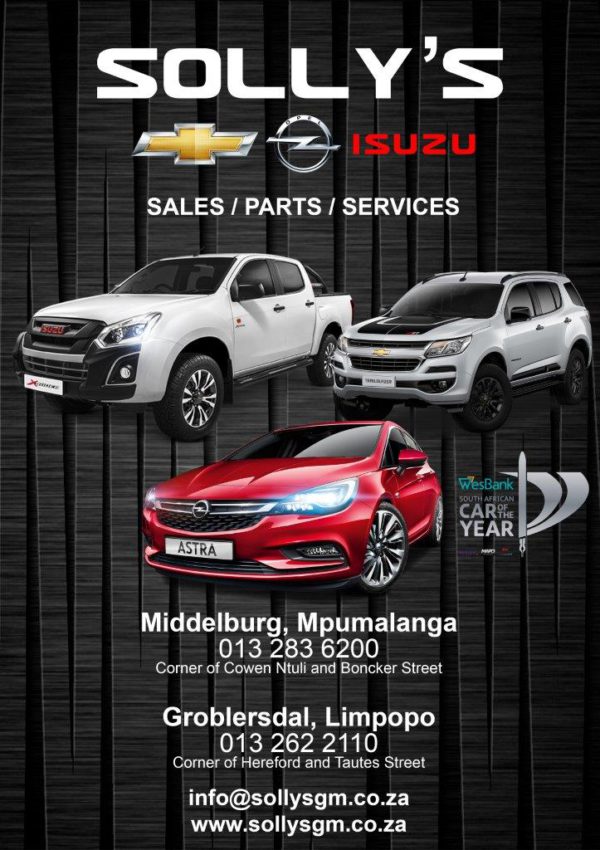 Sollys Middelburg – General Motors
The 15th October 2015, was indeed a historical day for Solly's, the General Motors and Isuzu trucks franchises in Middelburg and Groblersdal. Solly's was founded in Middelburg in the early 70's by Solly Latif, a well-known businessman from Middelburg, who actually managed to obtain a trading licence under very difficult political circumstances at the time.
In 2009 Solly acquired the franchise for Groblersdal as well, and Solly's Groblersdal was born. Shortly after that Solly Latif sold both dealerships to aJapaneseowned business,  Integrated Auto Services (IAS), which already owned some  General Motors and Isuzu Truck franchises .  Solly Latif retained a minority BEE share in IAS, but ceased all his operational involvement in Solly's at the time.
Six years later IAS, decided that Solly'sdoes not fit their strategic footprint and negotiationsstarted to acquire Solly's from IAS in early 2015.
Current partners
The current partners who were previously invested in Union Motors , a Mercedes-Benz franchise group, de-invested as minority partners in Union Motors and acquired Solly's Middelburg and Groblersdal.
The business model is a Partnership formed between three companies represented by,  Rob Ulrich Motors (Pty) Ltd, Jacques Strydom Motors (Pty Ltd) , and a BEE element through BATCO (Pty) Ltd.
Jacques and Rob are respectively responsible for business operations and administration of the partnership.
Together they have developed high quality procedures and best practises from being 25 years in the motor businesses with premium brands and has fully enforced these values into  the new Solly's team.
The partners are continuing their investment into the people, premises and facilities and are determined to make Middelburg and Groblersdal proud of their local GM and Isuzu dealerships.
Solly's Middelburg & Groblersdal, offer the exiting Chevrolet and Opel passenger cars, the very reliable Isuzu bakkie range and the country's top selling truck, the formidable Isuzu truck range. With dedicated after sales services and reliable supply of parts and accessories together with roadside assistance Solly'sensure peace of mind to current and prospective customers.
Solly's vision
Solly's vision is to build customer relationships for life, to always be small enough to care about each individual customer, but also large and professional enough to service the individual and the  fleet industry with cutting edge fleet solutions and advise.
We pride ourselves in our core values of Passion, Integrity, Equality and Longevity.
Please visit the all new website on www.sollysgm.co.za to see a comprehensive list of our new vehicles on offer and some good exiting deals on quality Pre-Owned vehicles. You can talk to us live on-line, book a service or just browse what we have on offer.
On this new and fresh website you will find the contact details of the whole team and you are welcome to make contact with the friendly and professional staff at Solly's, so we can be of assistance to you. Also we are looking forward to meeting  you!