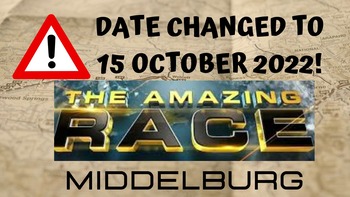 Amazing Race Middelburg postponed until 15 October 2022
There is good news for all those who wanted to take part in this treasure hunt adventure on 24 September but already had plans! Due to the many other activities taking place in town and the many requests received, the organizers have decided to postpone the event until Saturday, 15 October 2022. The closing date for registrations is 30 September. Manual registrations will be accepted at the Middelburg Outreach Festival at the Rustique Boutique Hotel on 24 September, so look out for our stall!
On the day of the race, teams of 4 will race around town in their own vehicle solving clues that will take them from location to location where they must complete mental and/or physical challenges until you reach the finish line! You will put your skills and knowledge of the town to the test – with a little help from Google if necessary. We will take you to various points ranging from local shops to tourist attractions and historically significant sites.
There are great cash prizes to be won!
All you need to do is complete the entry form and pay the entry fee of R700 per team before the closing date of 30 September. If you enter two teams, you will receive a discount of R600per team.
The competition is open to businesses as well as private groups and families. The number of participants is limited, so do not delay! Registration forms are available at the Middelburg Information Centre office, 292 Walter Sisulu Street or by emailing marketing@middelburginfo.com. Online registrations can be made via the Facebook page @amazeraceMid or WhatsApp 0849832819 to receive the registration link.
We are appealing to businesses to get involved as sponsors. Contact Elsabe or Mmabatho on 013 2432253.