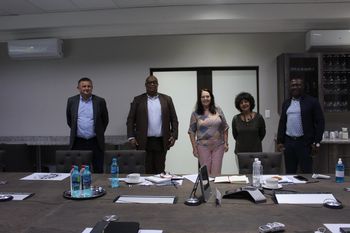 Business opportunities with the Danes
President Que Naidoo and Vice President Vusi Seroka met with Peter Hydorn, Adviser International Business and Leo Crisp, Senior: Trade Investment Advisors of the Danish Ministry of Foreign Affairs, on 23 March 2022. MCCI presented Middelburg as a possible investment opportunity. Two main points of investment interest in the Steve Tshwete region were discussed at the meeting.
One issue was the Just Transition opportunities for possible collaboration. Many collaboration opportunities were expressed, but the national government's involvement was influencing how the opportunities would be rolled out. This was also the author's experience, who has attended many recent meetings and conferences on this topic. Due to the value of the potential projects, there seems to be an umbrella of protection.
Of greater interest to MCCI members would be Danish companies' experiences and technologies in energy-efficient equipment and the capabilities of successfully reducing energy consumption. Another area they could offer opportunities to companies is their expertise in robotics.
This is the first of many meetings, and we are working towards investment with Middelburg. Members will be invited for further discussions.