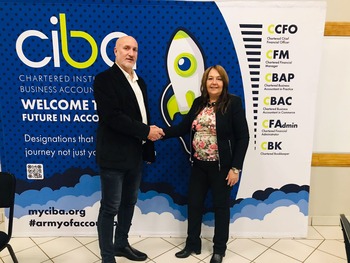 CIBA Roadshow
The Middelburg Chamber of Commerce and Industry (MCCI) hosted the Chartered Institute for Business Accountants NPC (CIBA) in our auditorium on 27 July 2023.
Mr Nicolaas van Wyk, Chief Executive Officer of CIBA and board member of the South African Chamber of Commerce and Industry (SACCI), organised the workshop for the local accountants. Without a functioning local chamber of commerce, many important business issues are ignored and with a strong voice for business, common solutions are achieved, said van Wyk. He also said that SMEs face numerous challenges, where an accountant can play an important role in helping businesses.
Through the CIBA and Chambers networks, businesses can work together to strengthen their networks, grow their business, and become part of a movement that works for the betterment of South Africa.
The MCCI application form can be found on our website https://middelburginfo.com/membership/. For more information about CIBA, please visit www.saiba.org.za.