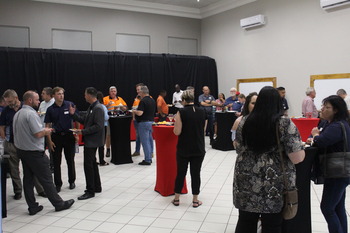 DecisionSmiths Hosted the October Business Buzz
The business community meets and networks at a Middelburg Chamber business buzz or breakfast.
Dr Christoff Prinsloo presented the systems and processes needed to make the best decision for your business. Today's business landscape is fraught with complexity, bias pitfalls and uncertainty. Accurate decision-making has never been more important. The Decisionsmiths specialises in improving the quality of decision-making of your team through in-depth decision-maker insights and tailormade data analytics. It has never been this easy to make a visible difference in your team's decision-making performance. Visit www.thedecisionsmiths.com for more information.
The next networking event will be Speed Networking on 24 November 2022. Invitations will be sent out in the first week of November, and RSVP as soon as possible. For more information or to host a Business Buzz, please contact Mmabatho or Christo at the MCCI office at 013 243 2253 or email info@middelburginfo.com.