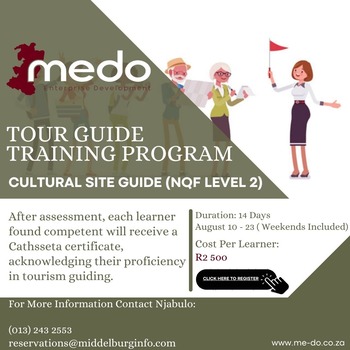 ---
How to turn your business into a tourist attraction
For the first time, the Middelburg Tourism Information Centre is offering training for local site tour guides. Popular areas such as Mbombela, Pretoria, and Cape Town have tour guides who attract many tourists to certain areas.
If you are visiting a place of interest with interesting stories, there is often a site guide who will show you around the premises or area. If you offer this service in your business, your visitors, and tourists, they will stay longer or spend more money in your business. This is a well-known international practise that supports and grows the tourism industry. As a private person, you can also earn an income by offering guided tours.
We do not know when we will offer the training again. The training will be held at MCCI's auditorium for ten consecutive days starting 10 August 2023. After the exam, the participant will be accredited with NQF Level 2. The full NQF Level 4 tour guide training will be offered next year at an additional cost of R500.
This is an opportunity not to be missed. There are interesting stories and people everywhere and tourism businesses can only benefit if they can also offer a tour guide. Please contact Mmabatho Phatakge on 013 243 2253 or secretary@middelburginfo.com.