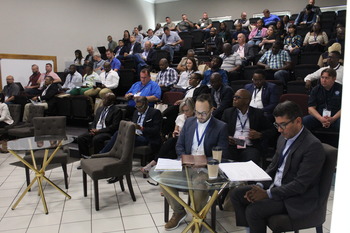 JET for Business: Opportunities?
The Middelburg Chamber of Commerce and Industry hosted a congress on Wednesday, 28 September 2022, to discuss business opportunities in the Just Energy Transition (JET). MCCI President Que Naidoo opened the congress and stressed that the role of coal in the region cannot be dismissed. MCCI wanted the conversation and opportunities around JET to change from purely socio-economic development to business-oriented expansion.
Dr. Sibanda, CEO of Exilite, introduced the day. He said that we need to see JET as a system with interconnected parts. If you take out the parts of the system, the system loses its essence. One part cannot thrive if the other parts are not functioning. The economy has to adapt to the changes that are coming. We have assumed that the part of the system that concerns electricity supply has shown us that some parts of the country's electricity supply system are not working.
Dhesigen Naidoo, Senior Advisor to the World Bank and responsible for climate adaptation in the South African President's Climate Change Commission, spoke to the companies and they agreed to have further discussions with MCCI. How to finance renewable energy was presented by Rentia van Tonder, Head: Renewable Energy, Power & Infrastructure, Standard Bank. Wayne Glossop of Wartsila and Jean-Francois Pinharanda of Total Energy, Matola LNG Project, spoke about gas development and opportunities for JET. Is nuclear a viable part of the energy mix for JET, said Mxolisi Makhatini, Group Executive, Power and Industry, Nuclear Energy Corporation of South Africa.
We also looked at the accessibility of the grid, by Ronald Marais, Grid Planning from Eskom Transmission and how tariff changes could be calculated when you supply Eskom, and Feed in Tariff Changes – Shirley Salvoldi, Corporate Consultant, Electricity Pricing, and Eskom Distribution. These were very technical presentations, but they brought some clarity to the current situation.
Mike Teke, Chief Executive Officer, Seriti Resources, spoke about adapting the coal mining industry to a greener future. He began by highlighting the role that coal mining plays in the economy, that 93 000 direct jobs and 200 000 indirect jobs are associated with coal mining. He also said that Sereti is looking into wind energy in the Gert Sibande area and is also exploring other alternative energy generation. He urged everyone to take a balanced approach and explore the opportunities that are available.
At the end of the day, businesses and our members want reliable, affordable baseload power to grow our businesses and economy and keep jobs in the region. Thank you to Nashua and Standard Bank for your main sponsorships. Members interested in joining the next round of discussions can contact me at ceo@middelburginfo.com.