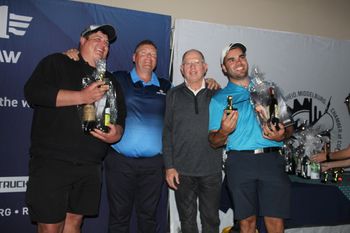 Lively Golf day with Naas Botha
On May 13, the Middelburg Chamber held its annual corporate golf day at the Middelburg Country Club. The day was filled with laughter and excitement from 144 registered players who made for a very crowded field. 18 T-box sponsors and 6 greens sponsors ensured that we had a decorative, creative and energetic golf course. Each with its own music and games.
The programme director for the awards ceremony was Christo de Ridder from ThinkSolutions. The master of ceremonies, the famous Naas Botha, provided an evening full of jokes and fun and an interactive evening with the audience. Naas Botha was the cherry on top of our Chamber's already successful event.
Anna-Marth Ott, CEO of MCCI, opened the event and welcomed all the sponsors and players. Corrie Barnard of FAW Highveld Commercial, the main sponsor, followed by Dawid Westermann from Nashua Mpumalanga, addressed the crowd, giving them a short overview of the main sponsors' businesses.
All T's and Green sponsors:
Phillips Global
Qembu Middelburg
Klinger Mzansi
Cross Labour
AeQuim
One Weigh Middelburg
Gibbs & De Jager Inc.
Nungu Property Group
Umsizi Mining
Brimis Engineering
First National Bank
Green Ticket Testing Solutions
Liebherr-Africa
CrossFit Artaxes/Midwell Dietitians
Mbungiswa Logistics
Schoonbee Landgoed
Earthcomp
Jonsson Workwear
Thos Begbie & Company
Carl Bechem SA
PriceWaterhouseCoopers SA
Columbus Stainless
Spec-cast Middelburg
Prize sponsors:
Columbus Stainless
Liebherr-Africa
Brimis Engineering
Schoonbee Landgoed
Middelburg Mall
Johnsson Workwear
One Weigh
FAW Highveld Commercial
MS Design
ThinkSolutions
Cross Labour
Carl Bechem SA
Hole in one prize sponsor – Middelburg Chamber
No takers for the R100 000.00 cash prize sponsor on hole 3 for the hole in one.
Picture – Nearest to the Pin (Johan Strydom – Columbus Stainless)

Nearest to the Pin (Julian Coetzee – Schoonbee Landgoed)

Picture – Longest drive (Danny Pienaar – Schoonbee Landgoed)
Picture – Longest drive (Nick Pinheiro – Phillips Global)
Picture – Kianga Group was the winner with their two female players, Maxine Luck and Daleen du Preez
Picture – FNB with a second place winners, Johan de Bruto and Rohan Stander
5 T-box and Green Sponsors received prices for the best vibes
Brimis Engineering
Phillips Global
Gibbs and De Jager attorneys
Spec-cast
Carl Bechem SA
3 prizes for best dressed 4-balls
Johnson Wear
Umsizi Mining
Liebherr Africa
Thank you to all 4-balls and players – thank you for your participating and being part of the day. The Chamber executive members thank you for the support and the raffle sponsor prizes. Thank you to all our sponsors for the day. See you next year!!