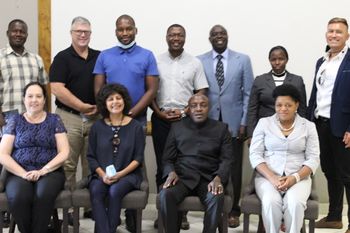 Many business opportunities in Burundi
A delegation from Burundi led by Ambassador KN Jolobe, HE Ms, met with Que Naidoo, President of MCCI and various members of the Middelburg Chamber Executive.
Burundi has 6% of the world's rare earth deposits and exports Arabica coffee. They are also looking at possible investments or partnerships with local businesses in tourism, internet connectivity, mining opportunities and agriculture. Burundi has 17 provinces and a different mineral has been found in each province.
The aim of the meeting was to establish contacts with local businesses that can network with Burundian businesses. Today, they have cut the red tape by introducing the ambassador directly to the Chamber of Commerce.
The next step is to organise a networking event between The East African Investment, Trade, Promotion Agency, the Burundi delegation and members to plan and explore the proposed trade delegation to Burundi.
Members are invited to send me their details to secure their invitation to the next Burundi investment event. Contact Anna-Marth Ott at ceo@middelburginfo.com.