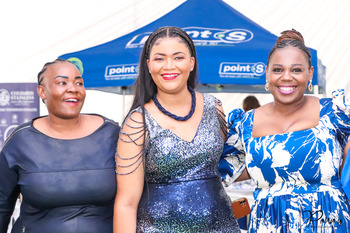 MCCI's Women in Business Celebration 2023
Every year, the Middelburg Chamber of Commerce and Industry celebrates women in business. We salute both the business owners and the women who work in various businesses and make sure that our economy gets going.
The motto of 2023 on 15 September 2023 was "Be your Best". MCCI not only had two great ladies speaking to our members but also the beautiful music of the Mpumalanga Band of the South African Police Service. Throughout the day, our two flamboyant speakers Anne-Marie Smith and Sharlotte Tsotetsi-Mpotu motivated women to be their best, whatever their situation, to choose, live and find out what they want to be happy, as well as their families and colleagues.
One hundred and seventy women gathered at Ukhamba Industrial Park to celebrate the Mbhokodo's of business. The morning began with uplifting music from the SAPS Provincial Band, and the women sang and danced along. MCCI would like to thank Ukhamba Industrial Park, Thulasizwe décor, catering & sewing, Nashua Mpumalanga, Thos Begbie & co, Columbus Stainless, Alveston Manor, and Spa, Think sol, MAC Cosmetics, Twizza, FNB, PWC, NST Verification, Matsimela, SAPS Provincial band, Environ, Spalicious, The Daily Café, Brimis Engineering, Mpumamanzi, GUS, Tyrelubbe, Nkangala TVET College, Middelburg Observer.
A special thank you to Christo de Ridder who was our MC for the day and Johannes Welgemoed from Daily Coffee and Hendry Swanepoel from Alveston Manor, our organizing committee. And to our two speakers Sharlotte Tsotetsi–Mpotu and Anne-Marie Smith – may you be richly blessed. In addition, to the beautiful, sophisticated women who attended the event……. YOU ROCK.