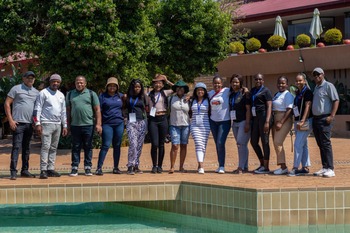 National Media Houses visited our town.
The Information Officer of the Middelburg Tourism Information Centre, Mmabatho Phathakge, accompanied a delegation from multiple media houses and the Mpumalanga Parks and Tourism Agency on a tour to promote the town's tourism attractions.  The Steve Tshwete Municipality hosted the tour.
The media tour is part of the municipality's investment drive to promote expose the various tourism attractions to enable the growth of the tourism sector. The tour lasted two days, as there was a lot to do and see in the area.
The tour started at the construction site of the new Radisson Hotel, which will be completed next year. The hotel will have 151 rooms, a restaurant, and a conference facility. The second stop was at the Middelburg Dam, where our tour guide Ben Mokoena explained the history of the dam and how it was built. They then drove to Middelburg Station, where we met Johan Janse van Rensburg gave them interesting information and anecdotes about the station and his plans for it. A visit to the historical landmark Botshabelo to highlight the potential and the visitors saw the beautiful view of the Loskop Dam. Last but not least the Ubetyan-O-Africa.
The media tourists left Middelburg eager and well informed about our beautiful town. Do you want to hear about some stories of the places you drive by daily? To book our various town, historical and ghost tour packages you can contact the Middelburg Information Centre on 013 243 2253.