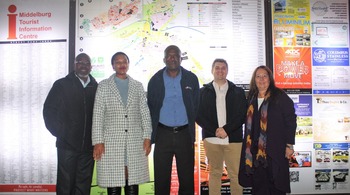 Outdoor Map of Middelburg
The Middelburg Tourism Information Centre (MTIC) created the Outdoor Map of Middelburg prior to the 2010 FIFA World Cup and has updated the information regularly to ensure that it remains as accurate as possible.
The MTIC has been working diligently to update the Outdoor Town Map with the latest information from the Steve Tshwete's Town Planning Department. First, we printed the map so that Middleburgers would have a map available when we do not have a mobile phone or data connection. This map is freely accessible in a well-lit and secure environment 24 hours a day and is visited several times a day.
MTIC would like to thank our sponsors: ACDC Express, Brimis Engineering, Columbus Stainless (Pty) Ltd, Mbita Electrical, MCD/Shockwave, Olifants River Lodge, Precision Aluminium, and Thos Begbie. Without your support, MTIC would not have been able to provide this service to the community.
MTIC encourages our community to look at our outdoor map. If you need a printed map, you can pick one up at the MTIC office for a small fee. For more information, you can contact Mmabatho Phathakge at info@middelburginfo.com.